Upcoming;
Soloexhibition: D-d-d-ding, Konstakademien, Galleri väst och ateljen 14- 26 April 2020. Opening March 14, 12-16pm. Welcome!
https://kunstkritikk.com/a-new-gender-order/

Lecture: the Art history course, Södertörn University, Sep 2019
Steer / Veer
18.05 - 06, 2019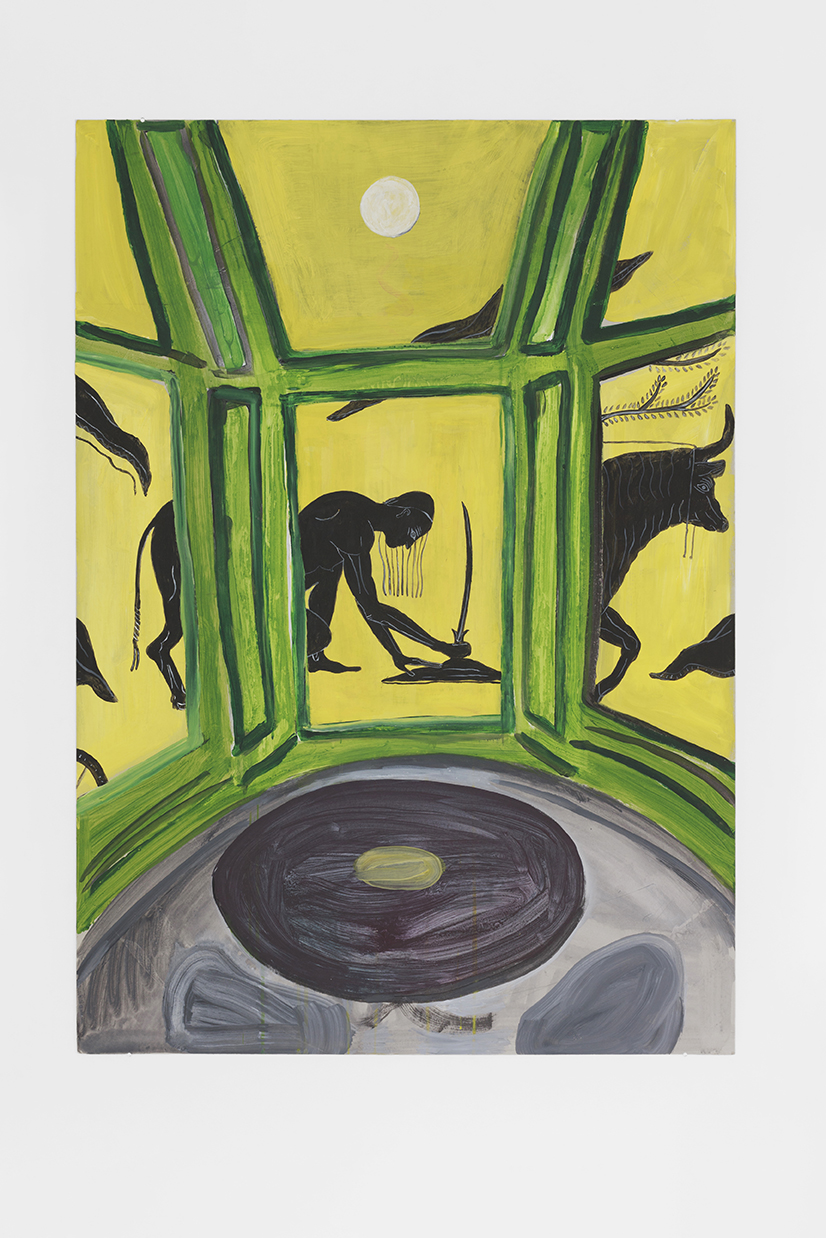 Galleri Flach
Soloexhibition
Opening May 18th 12am-4pm
Konstakademiens hus, Stockholm
Jakobsgatan 27 C / Fredsgatan 12, 4th floor
We have the great pleasure to present the exhibition "Steer / Veer" with works by Lina Bjerneld, the last show of the season. It includes a number of paintings that have been shown previously, but which are now brought together in a new constellation. To compile and to install already existing works of art in new forms of encounter is a challenge and a process in its own right. What stories are embedded in the works and what can be revealed in a new context? In Lina Bjerneld's multifaceted paintings there is a rich play of perspectives and images interwoven that in different contexts attract new possible ways of interpreting, seeing and experiencing them. The title "Steer / Veer" is just about this process; to contemplate, to bring together and to redirect. Each painting contains its own specific expression and energy. But they also hook in and are in dialogue with each other and their surroundings. In this way, a conversation also arises between the works and the gallery room itself.
There is an open approach in Lina Bjerneld's artistry towards the environment, but also towards the actual painting's possibilities to include various aspects of time, spatiality and representation. Within each painting there are several layers of stories and pictorial perspectives that take place both inside and outside the framework. Images are added on in parallel structures, as if she is painting within the painting. There is no given starting point, not a clear central perspective, not a superior story. They exist just as much in two as in three dimensions and can be placed both on the wall and on the floor as a freestanding object with images in several directions. In that sense, the paintings become their own installation, as the artist expresses it herself.
Thus, both within and between the paintings is a dialogue that deals with the actual process of painting, but also about which new paths and opportunities the process of painting creates. There is an explicit interest in investigating exactly this; the procedure to create a work of art and the time it takes, as well as the starting point of the image and its possible final result. She is also interested in the different "aura" of images; as for instance the flow of reproduced images in relation to the monolithic and more exalted character of the traditional oil painting. Her artistry enters into both these places; there is a flow of the multifaceted and seemingly temporary but suddenly the flow stops and the image emerges in its own right. Eva-Lotta Flach
---
---
20.01.2019



Research Week at the Royal Institute of Art, Stockholm

Performance of the text manuskriptet with Lina Bjerneld, Andreas Mangione and RIA students Sarali Borg and Fatima Kassius. Reflection upon the text "Reproducerbarhetens estetik" by Lars Erik Hjertström Lappalainen.

The presentation originates from Lina Bjerneld's recently published publication Klockspelet. The publication is a summary of several years of work dealing with the question about the reproducibility of painting. Already at an early stage, Bjerneld had an interest for the unit of a painting and the relations surrounding it. Since then this has become an active part of how she approaches her work with painting and installation. In the presentation the texts manuskriptet, samtalen and texten will be staged and performed by Bjerneld and the participants of the project.

The project is funded by the Swedish Arts Grants

---
Klockspelet/ Carillion
13.10.18 - 28.10.18


Galleri Kronan
Soloexhibition
Opening on Oct 13 12-4pm
Trädgårdsgatan 13
Norrköping


---
Show and tell, Malmö Konstmuseum
Malmö Konstmuseum
VII Lina Bjerneld, Eva Löfdahl, Torsten Andersson

During the twentieth century a number of artists have expired the connections between painting space and object- painting as a practice of creating an illusion, and its relationship to the room, but also the painting itself as an object. There are a number of points of commonality between Lina Bjerneld, Eva Löfdahl and Torsten Andersson. Their work is characterized by different kinds of tangibility, each a response to the conceptual collapse that art went through in the late twentieth century.


---