07 2020

Very happy to announce that paintings from the exhibition D-d-d-ding is now represented in the permanent collection of Moderna Museet in Stockholm.


I AM NOT ONE, Bonniers Konsthall
8.05-14.06 2020



Samproducerat av / Co-produced by: Bonniers Konsthall , HangmenProjects , Index - The Swedish Contemporary Art Foundation , Mint och SIGNAL
Konstnärer / Artists: Anna Andersson, Jenny Bergman, Lina Bjerneld, Roxy Farhat, Nathalie Gabrielsson, Susanna Jablonski, Jakob Krajcik, Stephen McKenzie, Nanna Nordström, Isak Sundström, Zhou Tao, Nacho Tatjer, Magnus Thierfelder Tzotzis och Cara Tolmie.

D-d-d-ding, Konstakademien

14.03- 14.05.2020
Soloexhibition




The exhibition catalogue includes texts by Nadia Hebson; d-d-d-thing (a stutter), d-d-d-thing (rehearsal), d-d-d-d-thing (inertia) and Lars-Erik Hjertström Lappalainen; Stiltje, skimmer
Catalogue text: Stiltje, skimmer

Videolink

Kunstkritikk: The Soul in Quarantine
Omkonst: Den stammande tiden
Konsten.net: lina-bjerneld-pa-konstakademien/
Kunstkritikk: New Gender Order, Have women artists ever been as prominent as in Sweden during the spring of 2020?

Ius Inter

01.05.2020
Groupexhibition
Björkholmen Gallery
, Stockholm
open by appointment April 2020
Anders Widoff, Daniel Jensen, Dawid, Fabian Bergmark Näsman, Hans Isaksson, Ida Rödén, Jenny Källman, Lina Bjerneld, Lukas Göthman, Thomas Elovsson, Åke E:son Lindman
Steer / Veer
18.05 - 06, 2019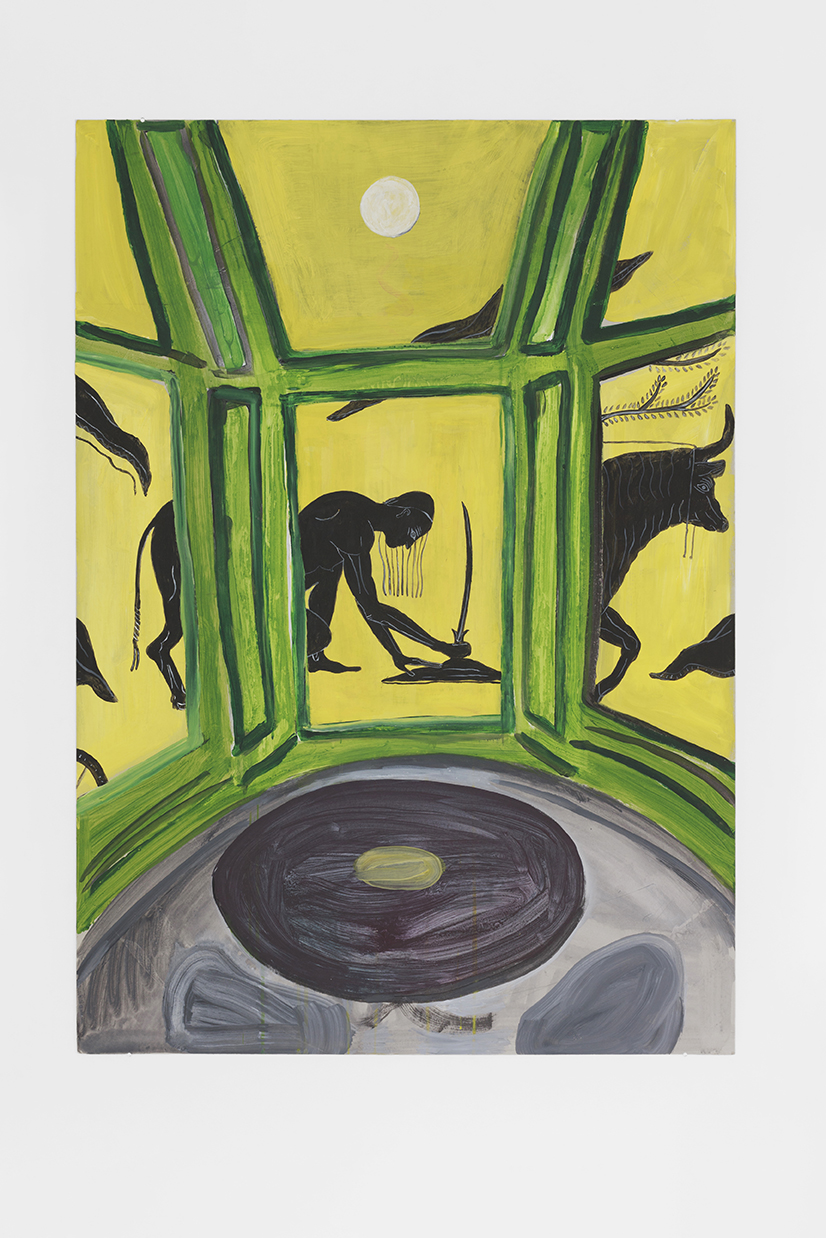 Galleri Flach
Opening May 18th 12am-4pm
Konstakademiens hus, Stockholm
Jakobsgatan 27 C / Fredsgatan 12, 4th floor
We have the great pleasure to present the exhibition "Steer / Veer" with works by Lina Bjerneld, the last show of the season. It includes a number of paintings that have been shown previously, but which are now brought together in a new constellation. To compile and to install already existing works of art in new forms of encounter is a challenge and a process in its own right. What stories are embedded in the works and what can be revealed in a new context? In Lina Bjerneld's multifaceted paintings there is a rich play of perspectives and images interwoven that in different contexts attract new possible ways of interpreting, seeing and experiencing them. The title "Steer / Veer" is just about this process; to contemplate, to bring together and to redirect. Each painting contains its own specific expression and energy. But they also hook in and are in dialogue with each other and their surroundings. In this way, a conversation also arises between the works and the gallery room itself.
There is an open approach in Lina Bjerneld's artistry towards the environment, but also towards the actual painting's possibilities to include various aspects of time, spatiality and representation. Within each painting there are several layers of stories and pictorial perspectives that take place both inside and outside the framework. Images are added on in parallel structures, as if she is painting within the painting. There is no given starting point, not a clear central perspective, not a superior story. They exist just as much in two as in three dimensions and can be placed both on the wall and on the floor as a freestanding object with images in several directions. In that sense, the paintings become their own installation, as the artist expresses it herself.
Thus, both within and between the paintings is a dialogue that deals with the actual process of painting, but also about which new paths and opportunities the process of painting creates. There is an explicit interest in investigating exactly this; the procedure to create a work of art and the time it takes, as well as the starting point of the image and its possible final result. She is also interested in the different "aura" of images; as for instance the flow of reproduced images in relation to the monolithic and more exalted character of the traditional oil painting. Her artistry enters into both these places; there is a flow of the multifaceted and seemingly temporary but suddenly the flow stops and the image emerges in its own right. Eva-Lotta Flach
---
---